Q&A with Strength4Spouses Founder Wendi Iacobello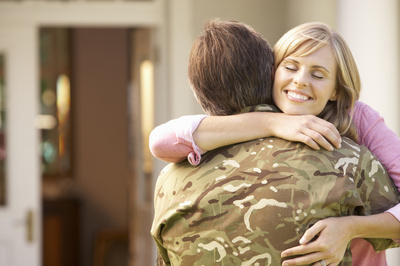 What's it like being a military wife (or spouse)? At first glance, this might seem like a loaded question. Any marriage or partnership faces a series of somewhat predictable challenges.
From adapting to parenthood to coping with illness or life as an empty nester, all seasons of life can put your relationship to the test. However, as a military wife or partner, the relationship realities you face can be even more complicated.
Whether you are facing deployment, struggling with a new move or searching for a sense of self, the challenges you face deserve a certain level of distinction (as do marriages that create blended families and same-sex marriages).
Exactly which challenges are unique to military couples? Also, if you are a military wife or spouse, what can you do to cope with your role?
To answer these questions adequately, we wanted to reach out to someone on the front lines.
So, for this post, we partnered with Strength4Spouses founder Wendi Iacobello, an army wife, educator and professional blogger.
Wendi created Strength4Spouses last year to meet a rising need among military spouses for inspiration and encouragement.
In the following Q&A, she touches on everything from long periods of separation to constant transitions and the effects of war and stress on her marriage. Throughout it all, Wendi offers a real, raw perspective on life as a military wife.
At NCCT, we work with countless couples who have had to evolve, both as individuals and as couples, to maintain communication and thrive in their relationship for the long-haul. Gottman calls these couples "masters of marriage" and Tatkin calls them "mentor couples." Are there any "mentor couples" or "masters of marriage" that you know in the military sphere?
A couple that I look up to in the military world that embodies these characteristics and more is Tiffany and Scott Smiley. Their story is amazing, and their marriage had to triumph over several hurdles when Scott was injured in combat.
I look to this couple and see so much faith, resilience, commitment, loyalty and pure love. It is evident they enjoy each other's company, and they cheer each other on in each of their personal endeavors. It would personally be my dream to meet them and thank them for sharing their testimony to help others.
As a group that practices couples therapy exclusively, we have discovered there can be a strong stigma associated with being open about your married life. When you are transparent about your problems, it can sometimes amplify the issues you face. How do you think being in the military might impact a person's ability to reach out and get help from a therapist? What would you say to that person or their spouse?
There are many stigmas associated with reaching out for help in military families. Some service members feel like they will be penalized in some way for asking for help, especially if their command finds out. Military spouses are sometimes hesitant as well due to stigmas.
My advice is that strength comes from asking for help, and no one should suffer in silence alone. Counseling is super helpful and a great resource to assist military families through the ups and downs of this life.
In the article you wrote for Uplifting Anchor, you said: "There isn't a welcoming party when you marry a service member." How have feelings of isolation impacted your connection with your husband?
This is a great question because I have felt isolated on more than one occasion as a military spouse. It's not easy finding a whole new community and tribe of people like the friends you left behind.
I have always tried not to let the transitions and isolation affect my relationship with my husband, as that can turn into resentment. That can really damage a marriage, so I have tried to put myself out there and volunteer, find groups online and get involved in the local community in order to find my place or where I fit in best in this life.
Also, my husband has always been supportive of all of my ambitions. More times than not, he is a sounding board for me and always lends a listening ear.
On your Instagram page, you posted this quote from Barbara Bush: "You are a human being first. Those human connections with spouses, with children, with friends, are the most important investments you will ever make." Can you speak more into that point? What about this quote is significant to you?
The time we have with our spouse is precious and should never be taken for granted. Many military spouses are forced to choose between career and family. Many others have become entrepreneurs so they can have both. Time is valuable and not something you can get back. This makes military family dynamics so unique in that we are constantly embracing the time together and anxiously awaiting our next time apart.
You speak a lot about strength in your writing and have aptly chose that as the first word of your blog, Strength 4 Spouses. Why do you think that word is so fitting for a military spouse? In what ways have you had to be strong in your marriage?
"Strength" is one characteristic that embodies the military spouse community. Our strength is constantly being tested, due to the challenges we face. We are always trying to develop it further, and "staying strong" is a big part of life as a military spouse. I created Strength 4 Spouses to help the military spouse community find their strength through various measures, as "strength" is what gets us through so many obstacles in this life.
You often write about changing career paths and pursuing a career that is a better fit for the military lifestyle. Can you elaborate on that point? What was this experience like for you?
It was extremely difficult to walk away from my nine-year career in higher education, but it was a decision I felt was necessary for our family at that time. After relocating over an hour away with my husband and experiencing pregnancy loss, I knew I had to make a shift in my career.
It has been exhausting trying to find something comparable to the job that I had to leave behind. I have revamped my resume several times, as well as my LinkedIn profile, with the help of an organization called Hire Heroes USA. I, like most military spouses, ventured into entrepreneurship so that I could create a career for myself in the freelance world.
You are very open on your blog about the pregnancy loss you experienced and the effect it had on your marriage. Can you explain the impact it had on you and your relationship?
Pregnancy loss was the most significant blow to our marriage thus far. We had survived living apart for our first nine months of marriage and moving twice within one year, but the miscarriage tried to destroy us.
The grief from that tragedy was so enormous that our relationship suffered tremendously. I had to reach out to counseling for help because I could not shake the fog of depression. Therapy was my lifesaver and helped me see my value and worth again after miscarriage took all of that and more out of me.
It took time for us to heal and patch up our relationship, but we made it through and began to feel the turning point a little over a year later. It wasn't something that resolved overnight, but with time, we persevered.
You also write often about being "so much more" than a military spouse, and you certainly are! Why do you feel this message is so important to stress to your audience? What about it resonates with you?
As soon as you marry a service member, you are put into this horrible stereotypical category of just being someone that is married to a service member and riding their coattails, no matter what. It's an awful stereotype, and #morethanamilspouse was created to combat that.
Military spouses are so much more than just married to a service member. We are mothers, business owners, students, professionals, volunteers, and the list could go on and on. There is so much we handle on the home front that is rarely seen or recognized.
What people don't always see are the days when we are struggling to hold it all together, but we put on a brave face because we have to. There is so much strength and character that embodies every military spouse that I have met thus far.
About NCCT
The staff at NCCT is so grateful to Wendi for painting such a complete picture of life as a military spouse and offering insight on the barriers to intimacy, as well as the unique opportunities for growth it provides.
Our therapists at NCCT have over 100 years of collective experience and are focused exclusively on working with couples. We are also well-versed in the issues that, at times, hit military couples hard: such as PTSD, substance abuse, infidelity, loss, long-distance relationships and even traumatic brain injury. Our couples therapists provide Emotionally Focused Therapy, Gottman Method therapy, and Couples Retreats.
If you would like to know more or find out what format will work best for you, give us a call at (413) 586-2300.
About Wendi Iacobello
Wendi Iacobello has been an Army wife for three years. She is a southern belle, who married an adorable northern charmer, who just so happened to be a paratrooper. They are currently stationed at Fort Bragg, NC, which is in Wendi's home state. She has spent the last nine years as an adult educator, has a Bachelor of Science degree in Early Childhood Education, and a Master of Arts in Educational Media.
Her teaching career includes; Middle and High School Special Education, Correctional Education, and Community College Instruction in Early Childhood Education, Compensatory Ed, as well as Adult Basic Education. Currently, she is a blogger, freelance writer, instructional designer, and avid volunteer.
In her free time, you can usually find her volunteering at USO's story time, outdoors in the garden, running, cooking up a new recipe, or playing fetch with their adorable Beagle, Daizi. Wendi is extremely passionate about helping others find their inner strength by sharing her experiences, insight, resources, and inspirational stories on her blog Strength4Spouses.