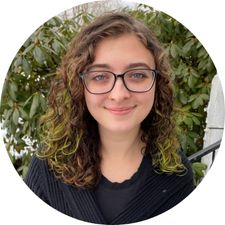 Erica Hinkley, MS, MFT License Eligible

she/her
"Relationships can be one of the strongest pillars upholding our lives and shaping the flow of our journey. They require continuous attention and care and demand the flexibility to change our 'dance' with one another when life throws something new our way. When this pillar becomes unsteady — we shake, bend, and may stumble before we find our footing again. When the pillar gets rebuilt, you may find that while you are not looking for a new view, this rebuilt version is stronger than before. That is hope."
Erica grew up in a small town, where everyone knew and still knows everyone, which created an insatiable curiosity for the details of interpersonal relationships. She has worked as a waitress, a bookseller, and an LGBTQ+ youth support leader. Erica obtained her Bachelor's by studying various topics, including English literature, sociology, women's studies, health education, and writing, before pursuing her Master's in Couple and Family Therapy.
In her couples work, Erica utilizes humor, sharp observation of patterns, and understanding that you are ultimately the expert on you. She believes that relational work is one of the most rewarding and valuable practices in existence. For couples, she serves as a knowledgeable translator when you find yourself seemingly speaking a different language than your partner, a guide when you find your relationship someplace unfamiliar, and a professional who can provide practical strategies and emotional understanding. Outside sessions, you can find her with her nose in a book or puttering around in the great outdoors with her husband.
---
Ask me About: The practicality of love, the rise of the Romance book genre, and cozy home decor.
Ever since I was young, I've been: Detail-oriented, imaginative, obsessed with love stories, and trying to befriend stray cats.
Favorite Quote: "When the truth isn't hopeful, the telling of it is" -Andrea Gibson
Favorite Kind of Couples: Couples who are willing to do the uncomfortable work of growing, who are willing to admit fault, and who can laugh together despite everything.
---
Credentials:
MS in Human Development and Family Science with a specialization in Couple and Family Therapy from The University of Rhode Island
Gottman Method Couples Therapy- Levels I and II
Additional training in Motivational Therapy