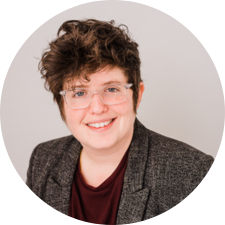 JP Posnak, MA, LMHC
They/them
"I think that couples therapy has the potential to be uniquely transformative. Unlike many other forms of therapy in which we talk about relationships, in couples therapy, the relationship is happening in the room. The desire for change is strong when we risk losing what we most treasure. In this high-stakes, dynamic space, we often feel inspired to take risks that lead to lasting change."
JP grew up in Miami, Florida, and went to graduate school in Denver, Colorado, where they earned a master's degree in couples and family therapy. JP gained much of their experience working at a community mental health agency in Boston, where they conducted therapy with families, children, adolescents, adults, groups, and high-risk patients.
JP works to create a safe, warm, accepting environment where clients can process pain and move toward healing. They utilize an integrative approach, drawing from various theories and modalities to meet clients' unique needs. JP strongly believes that deep, therapeutic presence can lead to new, adaptive ways of being.
JP identifies as trans/non-binary. While they specialize in clinical work with LGBTQ+ adults, JP sees people of all identities, orientations, and relationship structures.
---
Ask me about: cold plunging, The Godfather, and how Miami and Florida are actually two different states.
Ever since I was young, I've been: playing all the instruments I can get my hands on.
Favorite Quote: "Would you become a pilgrim on the road of love? The first condition is that you make yourself humble as dust and ashes." ― Rumi
Favorite kind of couples: I love working with couples who are new to therapy and scared to start. I love working with couples who have found previous therapy unhelpful and are skeptical about how I can help. I love working with couples who are ready to work and couples who are reluctant to participate. I love it all!
---
Credentials:
MA Clinical Mental Health Counseling, Concentration in Couples and Family Therapy – University of Colorado
Gottman Method Therapy – Level I and II
AEDP Level I
Additional training in:
Overcoming Racial Trauma, Dr. Kenneth Hardy
Understanding and Treating the Complex Puzzle of Non-Suicidal Self-Injury, Dr. Barry Walsh
Motivational Interviewing
Assessment and Clinical Understanding for CBHI (Children's Behavioral Health Initiative) Providers
Understanding Bias: White Fragility and How to Overcome It, Dr. Robin DiAngelo
Traumatic Effects on Immigrant Families: Implications for Cross-Cultural Trauma Treatment, Dr. Hugo Kamya