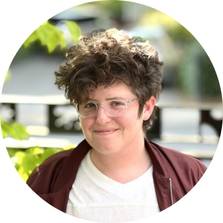 JP Posnak, MA, LMHC
They/them
"I think you know you've met your match when your relationship is equal parts gratifying, terrifying, challenging, and hilarious."
JP grew up in Miami, Florida, and went to graduate school in Denver, Colorado, where they earned a master's degree in couples and family therapy. JP identifies as trans/non-binary and specializes in clinical work with LGBTQ+ youth and adults. JP is passionate about advocating for trans-inclusive practices in the workplace. JP utilizes an attachment lens with their clients and always incorporates a family systems perspective, whether working with individuals, couples, or groups. 
JP has an obstinate dog, Guss, and a neurotic cat, Myrna. When not working, JP plays jazz piano and an occasional gig with their wife of eight years, who has an amazing voice. JP enjoys reading mysteries, taking naps, and is currently learning to play the drums. 
---
Ask me about:  My pronouns, The Godfather, and how Miami and Florida are actually two different states.
Ever since I was young, I've been: watching crime dramas, swimming in cold water, and playing jazz. 
Favorite Quote: "Everyone should cultivate a secret garden." – Esther Perel
Favorite kind of couples: Starting couples therapy can be such an intimidating endeavor. I appreciate clients who are even willing to consider allowing a stranger to dive in with them amidst the mess and vulnerability inherent in all relationship(s). 
---
Credentials:
MA Clinical Mental Health Counseling, Concentration in Couples and Family Therapy – University of Colorado
Gottman Method Therapy – Level I and II
Additional training in:
Overcoming Racial Trauma, Dr. Kenneth Hardy
Understanding and Treating the Complex Puzzle of Non-Suicidal Self-Injury, Dr. Barry Walsh
Motivational Interviewing
Assessment and Clinical Understanding for CBHI (Children's Behavioral Health Initiative) Providers
Understanding Bias: White Fragility and How to Overcome It at Work, Dr. Robin DiAngelo
Traumatic Effects on Immigrant Families: Implications for Cross-Cultural Trauma Treatment, Dr. Hugo Kamya
Ableism Training, Jeff Lafata-Hernandez