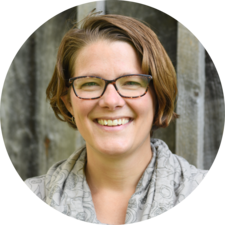 Julie Kunz, M.S.Ed

She/her
Billing Specialist and Intake Coordinator
Julie has a background in education, wilderness skills, and somatic awareness. She has taught adults and children of all ages for the past twelve years, most recently directing a forest kindergarten. She is most passionate about relationships of all kinds; to the earth, our bodies, and each other.
---
Ask me about: friction fire and foraging for wild edibles, rock climbing, intuitive forest wandering, and all things related to young children's development and parenting.
Ever since I was young, I've been: dreaming about building my home in a sustainable community.
Favorite Quote: "I want to stand by the river in my finest dress. I want to sing, strong and hard, and stomp my feet with a hundred others so that the waters hum with our happiness. I want to dance for the renewal of the world."
― Robin Wall Kimmerer, Braiding Sweetgrass: Indigenous Wisdom, Scientific Knowledge, and the Teachings of Plants
Favorite kind of couples: Those who are breaking out of normative, binary, or traditional configurations, and those who are willing to co-create shared safe spaces for growth and compassion.