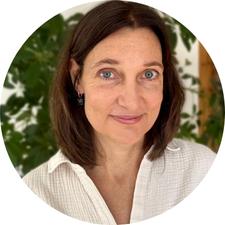 Kelly Crowell, MSW, LICSW
she/her
"Ever since I can remember, I have been curious about human behavior. What makes people think, feel, and behave the way they do? Often called an optimist and grounded in systems theory, I truly believe that change is possible for everyone. No matter who you are or what your background is, there is always room for growth. 
One of the many things I appreciate about NCCT is that we combine research with practice. Compared to when I first entered the field thirty years ago, we know so much more about how to help couples build strong relationships. Human behavior is complicated … and predictable at the same time. I live for those moments during sessions when a new level of understanding is reached and a couple is able to laugh and love and play once more."
Kelly has been building bridges between people her entire career. Drawing from a diverse background of experiences in school, social work, foster care, academia, and community mental health, she believes that small changes lead to big results. Kelly balances humor with gravity, direction with understanding. Her warm yet firm approach helps couples grow in ways they did not think possible. Kelly's work is trauma informed. She builds strong therapeutic relationships that harness deep and lasting change. 
---
Ask me about: Living up and down the east coast, rescuing dogs, my favorite definition of culture. 
Ever since I was young, I've been: Interested in the connection between systems and human behavior.
Favorite quote: "Learning is how you evolve. Unlearning is how you keep up as the world evolves." Adam Grant
Favorite Kinds of Couples: Couples who are willing to take risks
---
Credentials:
Master in Social Work, MSW – University of North Carolina at Chapel Hill
Gottman Method Therapy – Level I and II
Dialectic Behavior Therapy – DBT Individual Therapy and Skills
Trauma-Focused Cognitive Behavioral Therapy
Additional training in: Motivational Interviewing; Cognitive Behavioral Therapy; Working with
Highly Escalated Couples; Solutions Focused Brief Therapy