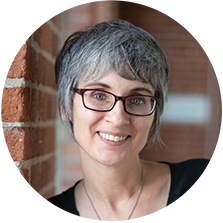 Kerry Lusignan, MA, LMHC
She/her
CEO and Founder
"The couples I most like to work with are honestly the hardest couples — the high conflict, in crisis, sometimes right-on-the-edge-of-divorce folks. Because in the end I truly believe that in crisis there is opportunity, and that when people are shook-up it's not just a sign of trouble but also of hope and potential. We have a chance to stick our hands in the fire and really change things and re-choreograph old, stuck patterns."
The Founder and Director of the Center, Kerry mixes heart, grit, rigor and irrepressible creativity to bring couples out of crisis. She has spent years refining an approach to couples work that is grounded in the latest state-of-the-art science of the field and tempers it with her own unique blend of make-it-work practicality.
Research shows that people learn best when they're put into situations similar to where they are struggling, and Kerry's strength lies in skillfully guiding couples into those places where the emotion is rawest but where opportunities for growth are most significant. Kerry is regarded by many as the go-to couples therapist when all else fails.
---
Ask me about: Iceland. Claw hammer banjo and guitar. The intersection between art and therapy. Making the perfect pizza.
Ever since I was young, I've been: Acutely aware of heartbreak and beauty. Of the mindset that if we can't grasp our mortality and how fleeting life is and get our heads around the deep call to love and do no harm in the face of impermanence, then we're in real trouble.
Favorite quote: "The obliterated place is equal parts destruction and creation. The obliterated place is pitch black and bright light. It is water and parched earth. It is mud, and it is manna. The real work of deep grief is making a home there". — Cheryl Strayed
Favorite kind of couples: I love all types of couples. I think staying coupled and attending couples therapy is an inherently brave stance in this world. I have tremendous respect for any couple who takes that risk.
---
Credentials
MA in Applied Psychology – Antioch University New England
Gottman Certified Therapist – trained by John Gottman
Emotionally Focused Therapist (EFT) Certification Eligible – Trained by George Faller
Certified Daring Way™ Facilitator (CDWF)
Certified in Stepfamily Systems – National Stepfamily Resource Center
Pragmatic Experiential Couples Therapy – Completed highest level of training – Trained by
Brent Atkinson
Neurodiverse Couples Therapy Level 1 – The Neurodiverse Couples Institute
Understanding and Applying Ambiguous Loss – Pauline Boss
PACT Level I in Training
Additional training – Stan Tatkin, David Schnarch, Patricia Papernow, and Esther Perel