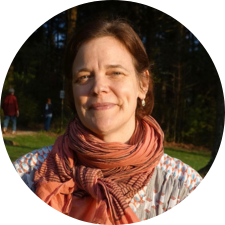 Rebecca Layton, MSW, LCSW
she/her
"With an extensive background in art and meditation, the idea of 'practice'—a lifelong process that both sustains and surprises—has compelled me for many years and in many forms. I bring this same curiosity, creativity, and compassion to my clinical work. Contemplative, creative, and relational practices all share a dedication and courage to be present and alive in this moment, which is all we ever really have."
Rebecca has worked and lived in the US, India, and Spain and has been an artist, teacher, and textile designer for many years before training as a clinical social worker. Rebecca is trained in psychodynamic theory as well as mindfulness practice. Her approach to therapy is collaborative and relational, with a focus on the body as well as the mind. She is passionate about meditation, art, and travel and is interested in the neuroscience of "embodied cognition" and recent research that shows a link between creative practices and well-being.
---
Ask me about: India, Finland, and Ireland. The history of wallpaper. The perfect chocolate pie.
Ever since I was young, I've been: Curious about other people and the world while still being a dedicated introvert.
Favorite quote: "The highest form of love is to be the protector of another person's solitude." — Rilke
Favorite kind of couples: I'm inspired by couples who are able to be continually surprised by their partner and by themselves. The ability to find delight and even humor in our own flawed, imperfect selves is a gift. It takes such tremendous courage to show up and be open to whatever arises, especially with those we love.
---
Credentials:
MSW Smith College
MFA Hunter College
Gottman Method Couples Therapy – Level I and Level II
Fulbright Senior Scholar
Additional training in: Mindfulness-Based Stress Reduction and Motivational Interviewing
New York State Certification in Art Education, K-12