Ritara Compton met the man of her dreams on Instagram. Compton, who is a website developer and delivery driver, is a resident of Denver. He's a laborer from Syria who lives in a refugee camp in Lebanon. After about seven months of video chatting, she bought a plane ticket and flew to Lebanon, where the couple met for the first time in person and got married in September 2018. Just days after the wedding, though, Compton had to return to her commitments in the United States. Her husband has been waiting months for a visa to join his new bride.
"All I can do is buckle down and work and hope for the best," Compton said.
This is just one example of the many couples and families who are enduring forced separation because of complex and changing immigration and refugee policies.
For example, the travel ban upheld by the Supreme Court on June 26, 2018 (PDF, 439 KB) External link prohibits nearly all immigrants, refugees, and visa holders from Iran, Libya, Somalia, Syria, Yemen, North Korea, and Venezuela from entering the United States. In other instances, many couples and families face the threat of separation when one partner is taken into custody for trial or deportation as a result of their immigration status. Asylum seekers, who have to relocate because of persecution due to race, religion, nationality, membership in a group, or political opinion, also endure a process that requires patience and guidance to travel to the States. As of August 2019, the backlog of all pending immigration cases was 1,007,155. External link The wait for cases to be heard is anywhere from six months to several years.
While the experiences of couples who are forcibly separated in some ways mirror the experiences of couples who separate consensually, for reasons such as military deployment or school, they also face their own set of unique challenges.
The forced separation of many couples that result from circumstances related to the travel ban or immigration policy can be described as "a traumatic couple event," said Dr. Donna Baptiste, Department Chair and Clinical Professor with [email protected], the Online Master of Arts in Counseling Program from The Family Institute at Northwestern University.
"There's an overwhelming rush of emotions, anxiety, and fear about the future," Dr. Baptiste said.
[email protected] sat down with Dr. Baptiste, who has worked in marital, couple, and family therapy and has counseled many first- and second-generation immigrant families who experience various kinds of separation. She discussed the effects of forced separation on loved ones and how counseling can help couples who must endure living apart.
What Stresses on a Relationship Result from Forced Separation?
Dr. Baptiste explained that when partners are forcibly separated, it undermines foundational aspects of what makes being a couple so meaningful to people, fostering anxiety or even depression.
"When you have a major withdrawal of resources in a relationship resulting from a forced separation, it can affect trust and commitment," she said. "A weakening of trust, commitment, and passion combined with anxiety, clinginess, and fear of the relationship not surviving creates a toxic mix, and some couples do not survive."
In many instances, these couples also have to consider how the family unit will be affected by separation. Couples aren't just worrying about themselves; they are also worrying about their children. The American Psychological Association's Society for Community Research and Action highlighted the trauma and hardship that children experience if their parent is separated and/or deported. External link Children experiencing a sense of trauma from forcible separation report: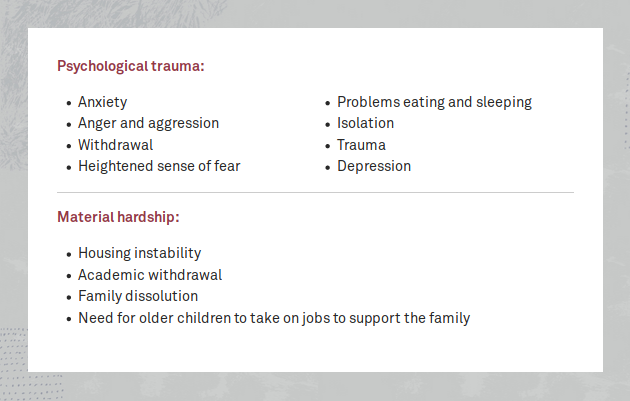 "In a forcible separation of partners, I'm seeing it through the lens of trauma, and I'm working with the partner that's available to me," Dr. Baptiste said.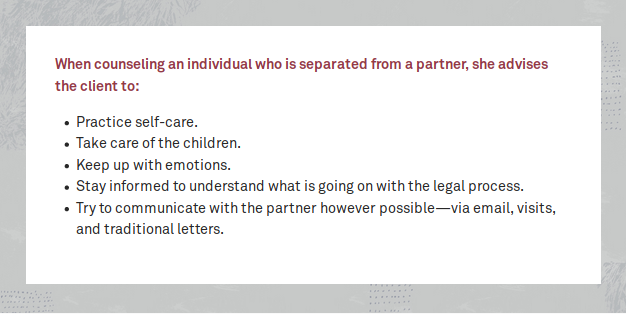 "A good counselor and mental health professional will encourage a number of actions that can actually help coping," Dr. Baptiste said.
Encouraging self-care can require reminding individuals to eat well, get enough sleep, find ways to soothe restless emotions, and seek out people who can support, encourage, and inspire them to deal with challenges. Separated partners may also find that a counselor is a good person to simply share any new developments and daily life events with, Dr. Baptiste said.
Where Can Couples Dealing with Forced Separation Get Help?
For some people dealing with forced separation, worries about legal status are compounded by the shame and stigma associated with asking for help. Rather than seeking out professional help, undocumented people may turn to trusted sources such as friends and ministers, Dr. Baptiste said.
She identified these religious groups and leaders as "unsung heroes," particularly for immigrant community members in need of counseling when families are forced to separate.
"Religious groups can do this work without getting into the question of whether we should deport people or not," she added.
As pastor Chris Sicks of the Alexandria Presbyterian Church in Alexandria, Virginia, highlighted in an episode of the Christian Civics podcast, External link churches can not only provide a welcoming community for immigrants and refugees but can also help address their spiritual, emotional, and relationship needs by establishing working relationships with organizations who focus on assisting these communities. And as churches connect separated couples with mental health professionals, it's up to those professionals to be empathetic yet pragmatic.
Other organizations also play a role in helping immigrants and refugees. The Intercultural Counseling Connection, External link sponsored by the non-profit Fusion Partnerships, External link is a network of mental health professionals who offer counseling services for asylum seekers and refugees in the Baltimore area. The ICC provides trauma-informed, language-appropriate counseling to qualified clients at no cost. The group connects mental health providers and interpreters with those in need while striving to make the counseling experience more culturally responsive and less intimidating, which can be important for the immigrant and refugee communities.
At The Northampton Center for Couples Therapy we are committed to helping couples navigate the stress and pain inherent in the trauma of forced separation, and it's impact on your relationship and your family.
"It's about the humanity of the people in front of you and their needs," Dr. Baptiste said.
Religious Groups Assisting Immigrants and Refugees:
Mental Health Resources for Immigrants and Refugees
Citation for this content: [email protected], the Online Master of Arts in Counseling Program from The Family Institute at Northwestern University.