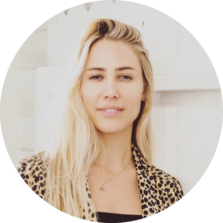 Lucy Sunday, Clinical Intern
She/her
Marriage and Family Therapist Candidate, Antioch University New England
"I have deep confidence in human beings' potential to grow, transform, and be brave. These qualities are why we can self-reflect and work towards creating a more compassionate relationship between ourselves and others. I believe that the places we are most frightened of in ourselves often have the most to teach us. Facing our vulnerability becomes an invitation to uncover our greatest potential. I do not shy away from the uncomfortable, the raw, or the scariest moments/places with my couples. I want to be present with them until we find a way forward —not based on avoidance, fear, or unconscious habit; but from a state of awareness and choice."
Lucy approaches her work from a place of humor, warmth, and curiosity. She believes cultivating a healthy relationship between the physical body and the mind can be a source of deep healing. From a young age, she was surrounded by a community of Buddhist spiritual practitioners and grew up witnessing her father's work in Hospice care, which impressed upon her the importance of contemplating how impermanence informs our daily lives. Exploring self-reflection and growth with humility, kindness, and awareness is her work's center. Lucy's strength lies in her ability to connect with people where they are, in any given moment, cultivate the experience of openness, and sit with couples at the heart of change.
---
Ask me about: Poetry, dogs, Dharma, and music. 
Ever since I was young, I've been: Looking for ways to connect to myself and others. 
Favorite quote: "The ability to ask beautiful questions —often in very un-beautiful moments— is one of the greatest disciplines of a human life. And a beautiful question starts to shape your identity as much by asking it as it does by having it answered" – David Whyte 
Favorite kind of couples: It takes a lot of courage to enter therapy. To show up in the face of uncertainty and be willing to take risks is the essence of being brave. This applies to you if you are reading this, and you are my favorite kind of couple.
---
Training and credentials:
MA in Couple and Family Therapy: In Progress
Gottman Method Therapy – Level I and II
Licensed Mindfulness Teacher (IMTA) 500 hours
Nonviolent Communication (NVC) – 8 Week Training