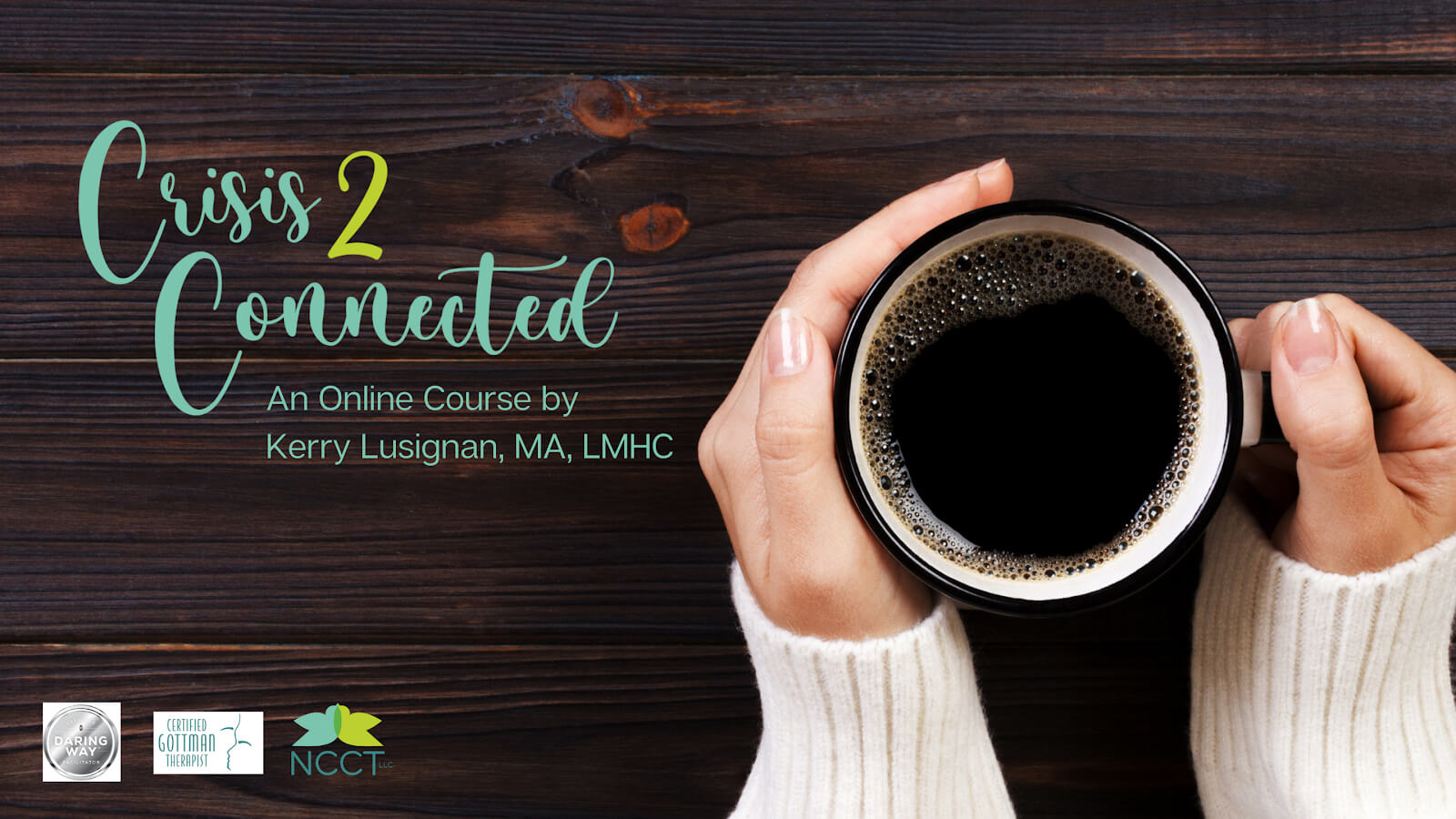 How do two people who love each other and build a life together, fall apart? Are there ways we can predict marital demise and vulnerability to divorce? Of equal importance, how might couples and individuals struggling with gridlock, hopelessness, and betrayal shift their trajectories?
Most importantly, when a relationship reaches a tipping point, can the runaway freight train of marital crisis be stopped?
We sat down with NCCT Founder and Certified Gottman Therapist Kerry Lusignan to get her thoughts on launching her new signature course: Crisis to Connected. We discussed what opportunities a digital course might afford couples in "limbo hell" or individuals who have ambivalent or leaning out partners.We explored the advantages of a digital course. It can be a legitimate alternative (or fantastic supplement) to traditional couples therapy, providing support and tools to people whose relationships are at a tipping point.
Additionally, Kerry shared her motives for creating C2C and discussed her ongoing passion for combining the best-of-the-best, in this case: Gottman, Daring Way,™ Stan Tatkin, and PEXT (Pragmatic Experiential Couples Therapy). 
Kerry, what inspired you to create Crisis to Connected? Based on your experience, can a digital course help couples?
At the beginning of the pandemic, I anticipated there would be a greater need for couples services than we've seen previously as couples suddenly found themselves sheltering in place together, unable to leave their homes. The stressors of domesticity, parenting, finances, and power-sharing were all converging. COVID has amplified the cracks and the chasms. It has also accentuated our strengths.
Meanwhile digital products and courses are becoming a regular part of our lives. We are learning and seeing the advantages that come from telehealth and online education. There is an enormous opportunity to be creative and offer tools, science, and experiences to couples who never had access to all of these fantastic resources before.
I'm committed to not having a boutique practice. I wanted to create something more affordable for people. A private retreat with NCCT starts at $4,500, and a two-day retreat with me is $6,500, so I wanted to find a way to give people the same value that I give my retreat clients for less money. I'm happy to say I've done it.
Crisis to Connected includes the same knowledge, the same skills, the same tools, and the same personalized attention for a fraction of the price ($899). It wasn't easy. I spent seven months doing research and creating the curriculum. It took me over 400 hours to build, but It was worth the extra effort, and I can't wait to share it!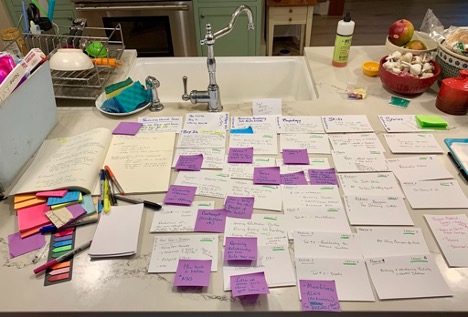 Notes from building Crisis to Connected on Kerry's kitchen island
Will you be teaching the course?
Absolutely, I'm the teacher and creator. Our survey responses showed people want to work with me directly, and I want to work with them and make sure this course offers value. Every week, we'll launch a new learning module (there are six total), and there will be live office hours so people can ask questions. The recordings will be posted for people who can't attend live. There will also be downloads via PDFs, recommended resources, and all sorts of excellent supplement material.
Additionally, I'll be making myself available for a certain number of students to communicate with me asynchronously using VideoAsk, which I'm excited about. It's really important to me this program feels engaging and fun, unlike many of the typical online courses out there today. 
I want people to have a sense of me. I'm a real human being, and my mission is to help support all of us in loving well. To do that, I need to be present.
What is the course based on? 
The course's content draws on the best of the leading models in relationship wellness: Gottman Method, Emotionally Focused, The Daring Way,™ and Pragmatic Experiential Therapy. It also draws on my years of experience refining an approach to couples work grounded in the latest state-of-the-art science of the field. 
I've tempered it with my unique blend of make-it-work practicality. There's no excuse for acting like this stuff is magic—it's not. All of the tools and concepts I teach are do-able and translatable. You don't need to spend $5,000 to fix yourself or your relationship. 
I've also kept an eye on having this program be a user-friendly and even a visually appealing experience. I have a fine arts background so every slide, video, and concept is thoughtfully designed.
Who is this course for? Who is it not for?
I created this course for anyone who feels stuck in their relationship.
Being stuck is what kept coming up in all of the research I conducted. Stuck can look like an individual with a partner who won't budge. Stuck can look like a couple in crisis who can't get out of gridlock but are motivated to do something. Stuck can also be a couple who likes each other but does not like being married to each other anymore. 
The course has a fair amount of homework, reading, worksheets, supplemental videos, and exercises, so it's not a good fit for someone (or a couple) who doesn't have the time to invest or is on the fence about initiating change in themselves.
What do you want people to take away from the course?
I want people to feel empowered, not stuck. I want people to gain new perceptions and skills that translate into all of their relationships. I want people to feel like they're finally free from old patterns and behaviors that have dogged them for years. Moving from crisis to connected is as about connecting to yourself as it is about other people. Connection is where it is at. It's associated with longevity, joy and peace.
*   *    *
Struggling with whether to stay or leave?
Join NCCT Founder and Certified Gottman Therapist Kerry Lusignan for "Is My Marriage Worth Saving," a FREE webinar about gaining clarity, courage, and skills in making one of the toughest decisions of your life. Learn the most significant predictors of divorce and how they apply to your relationship, the most common mistake people make when their relationship is in crisis, three little-known ways trust erodes, and more. The webinar will be offered three times and everyone who signs up will be sent a recording. Sign up for free here.